Moto Gymkhana
Recently one can also practice Moto Gymkhana at the MSG, a motorsport that originated in Japan. It's similar to your first driving lessons, but then it goes beyond where you probably left off with your exam. Several exercises that you've done before, slaloms, eights, rotations, but now you try to ride these as fast as possible.
It is a sport that is good for being more confident on the bike, but can also be very addictive when you get better and more agile at it.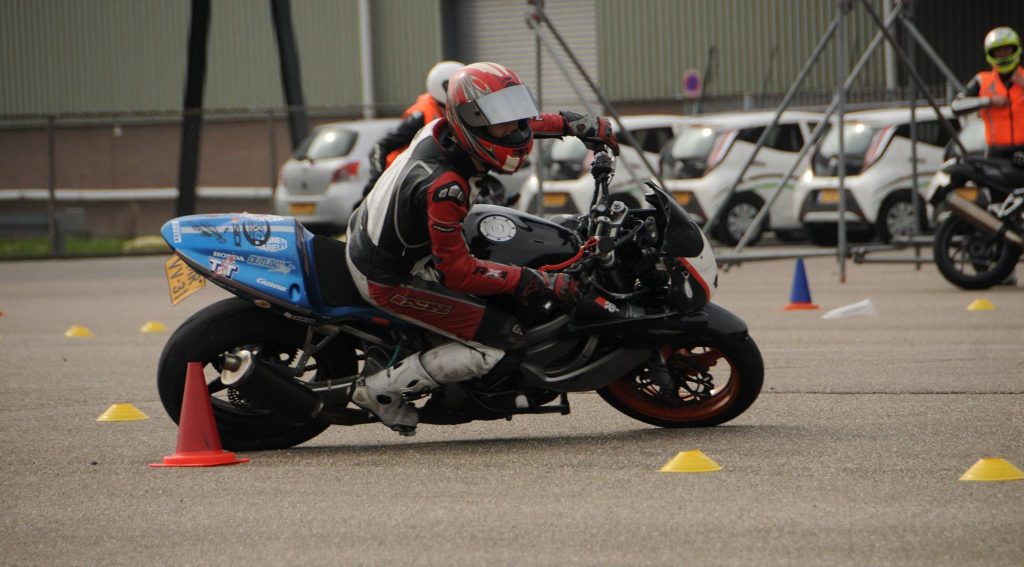 Moto Gymkhana at the Motorsportgroep:
Vanuit de MSG wordt er maandelijks een training georganiseerd, maar wordt er ook regelmatig buiten deze training om door leden afgesproken. Het enige wat je nodig hebt is een parkeerplaats, een stel pylonnen en een motor.
Ook is er vanuit de MSG een motor beschikbaar die gebruikt kan worden voor wanneer je nog geen motor hebt of het liever niet met je eigen motor doet.
The MSG organizes every month a training, but members can also meet outside this training. All you need is a parking space, a set of cones and a motorcycle. There is a motorcycle available from the MSG that can be used if you don't have one yet or if you prefer not to do it with your own motorcycle.
Due to the use of a public area and to guarantee the safety for other members who train with us, it is mandatory to be in possession of a valid motorcycle license.
Trainings:
Trainings are announced via the MSG mailing list or via the Whatsapp group. This is usually on a Sunday afternoon and if possible on the first Sunday of the month.
Competition:
During the year, MSG participates in the online World Competition of M-Gymkhana.com. A small exercise is published on this every month, after which you have until the 19th of the month to submit your own time with an online video. A fun way to participate in a relatively unknown sport worldwide with more enthusiasts.
Contact the MoCo for more information or a no-obligation introduction to Moto Gymkhana.